In the kitchen, as a work surface or a credence:

In the bathroom, as a washbasin surface or a wall of shower:

On the floor, inside as outside: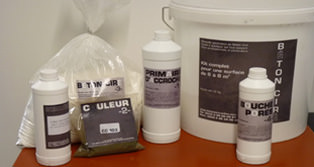 The waxed concrete kit allows you to realize all your decorating desires.
The application is easy, and you can apply it on all support.
Due to the treatments, it can be applied on bathroom or kitchen.
For more information, we recommend to consult the page "Application".

Furthermore, you can unleash your imagination
by creating your own furniture or decoration things.